Séura
We believe in the perfect harmony of technology and design so you can get more out of every space. Founded in 2003, Séura (seer-ah) is a world-class manufacturer of outdoor TVs, indoor waterproof TVs, TV mirrors, and lighted mirrors. What started as a vision by husband-and-wife team Tim and Gretchen Gilbertson to bridge the gap between design and technology has evolved into a dream to eliminate that gap.
Séura's video viewing and mirrored solutions can transform an ordinary space into an extraordinary space – in every room of the home. With a customer centric approach that drives its solution-based products, Séura delivers unsurpassed visual entertainment in surprisingly innovative and elegant ways to achieve the perfect harmony of technology and design.
Séura engineers and manufactures products in its own Wisconsin facility, allowing for better quality control, better customer support, and a better hand on the products delivered each and every day. Expectations are surpassed with their professional customer support teams that are legendary for enhancing the entire customer experience from start to finish. Séura continues to chart a path for its products to new and unexplored territory.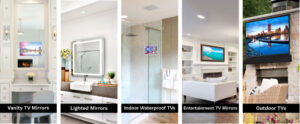 Most integrators are struggling to find the time, staff, and resources to support taking on more projects. You can grow your business by hiring more people and investing in more resources, or you can increase each project size with innovative solutions from Séura for every room in the home.
• Vanity TV Mirrors for the bathrooms
• Lighted Mirrors for the bathrooms and walk-in closets
• Indoor Waterproof TVs for the kitchen and shower
• Entertainment TV Mirrors for the living room, bedroom, and workout room
• Outdoor TVs for the backyard, patio, deck, and sunroom
Séura team members are available with product training, marketing materials and sales support. Visit seura.com to explore all products at the intersection of design and technology.