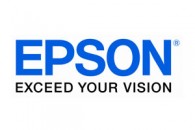 Epson
Epson aims to create a home entertainment lineup that makes it easy for consumers to enjoy large, high-impact digital images at home. Epson builds and promotes 3LCD technology; which provides users with smooth video playback and bright, natural images that are gentle on the eyes.
Seiko Epson's history spans more than 100 years, with a heritage that began in watch-making and led to the invention of the world's first quartz watch along with many other technology "firsts." Today, the company offers an extensive array of award-winning digital imaging products for the printing, scanning and projection markets.
From the company's early beginnings as a projection pioneer, Epson has grown into the top selling projector brand in the U.S. and Worldwide, creating innovative projection technologies for business, education and the home theater markets.

All Epson projectors are based on three-chip LCD technology for amazing color, incredible detail and solid reliability. For two decades, 3LCD technology has been the market's recognized leader in projection technology, and Epson continues to make strides in enhancing the technology.
Epson has been consistently ranked the number one home video company by an independent survey of consumer electronics retailers and custom installers throughout North America.