Monitor Audio
Monitor Audio Ltd is a British owned and managed global specialist in hi-fi loudspeaker design, incorporating stereo and surround sound systems and a range of sonically matched architectural speakers for ultra discreet high quality sound around the home and outside.
Whatever your taste and budget you'll discover a Monitor Audio speaker that answers your desire for great sound. Since hi-fi was in its infancy we've dedicated all our technical expertise, innovation and craftsmanship to the creation of world-class loudspeakers, which communicate the essence of our brand and reward the people who buy them. We want you to share and enjoy the blend of style, quality, performance and sophistication that makes Monitor Audio unique.
Our success is not simply a matter of excellent sound quality, although expert listeners around the world will testify to that. It's more about how we deliver the sonic superlatives. By consistently refining and applying our technologies, Monitor Audio has become the world's foremost expert in developing metal dome drivers. Metal is not the easiest material to shape, which is why many of our competitors choose paper or plastic. But it does have amazing properties for more life-like sound reproduction when treated correctly.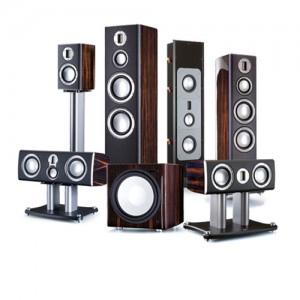 The Ceramic-Coated Aluminium Magnesium (C-CAM®) metal alloy driver cones used throughout our comprehensive range are very light, but very rigid and strong. Such a magical mix of properties allows them to reproduce the most delicate musical atmospherics as well as the dynamic bass excursions of movie action scenes or an explosive kick drum barrage. Our proprietary C-CAM® drivers can be much smaller than conventional designs and yet operate way beyond the limits of human audibility without distortion.
This means that we can design slimmer more elegant cabinets around them, so you enjoy class-leading audio performance from speakers that better suit your décor and lifestyle. And since they all share a consistency of tonal accuracy our on-wall, in-wall, floor or stand-mounting speakers may be mixed for the perfect aesthetic and sonic result in any environment.
In the strength and depth of our ever-evolving product portfolio, Monitor Audio continues to demonstrate the power of a high quality, high performance loudspeaker brand that serves every application, taste and budget – and every possible desire.