Azione Elects Integrated Home President and AHT Global Principal to Serve on Board
Chester Springs, PA – (November 12, 2018) – With the terms of two advisory members expiring, Azione Unlimited announces the election of two new members. Effective immediately, JW Anderson, president of The Integrated Home and Al Reinhard, principal of AHT Global, replace Kim Michels of Electronic Environments and Jason Voorhees of Cantara Design. Michels has held a board position since 2014 and Voorhees has been on the board since 2015.
Azione's unique and mutually beneficial business model strategically positions dealers and vendors as equal members. As such, both are represented equally on the Azione board, which is comprised of five vendor members and five dealer members.
"I am honored to join the Board at such an exciting time for Azione Unlimited. Over the last five years, the group has been an invaluable resource for The Integrated Home due to the unique collaboration between both dealer and vendor members," says Anderson. "Attending Azione conferences is my favorite part of the year and I'm excited to help further the business discussions between members of all sizes!"
"It is with great honor and appreciation to be selected to the Azione board. I look forward to sharing my experience with the board and the members of our group," says Reinhard. "Our industry is in need of professionals to erase the 'AV Guy' stigma and Azione is helping the next generation of AV professionals change that perception."
Responsible for helping guide the future of the group, the Azione board is nominated by the membership, and each member serves approximately a 3-year term.
"We thank Kim Michels and Jason Voorhees for their tremendous service as Azione board members. They were integral to Azione Unlimited's growth and accomplishments over their terms," says Azione President Richard Glikes. "We are excited to have JW Anderson and Al Reinhard join the board, and look forward to their inputs to propel Azione forward."
Other current members of the Azione Unlimited Advisory Board are: Travis Leo, Residential Systems, Inc; Eric Thies, DSI Luxury Technology; Chris Smith, Cloud9 Smart; Ryan Donaher, Meridian Audio; Tim Bigoness; D-Tools; Frank Sterns, Sony; Jimmy Paschke, SurgeX; and Gretchen Gilbertson, Séura.
About Azione Unlimited
Azione Unlimited, the education and buying group for integrators, is a consortium of like-minded custom installers, home technology professionals, and vendors. The organization helps its members achieve greater levels of prosperity, technical acumen, and sophistication in running their businesses and serving customers. Founded by industry veteran Richard Glikes and headquartered in Chester Springs, PA, the organization is celebrating its sixth year. In addition to two high-energy, information-packed conferences per year, Azione provides its members with a host of benefits, from product discounts to educational middle management meetings, and marketing tools. Learn more at AzioneUnlimited.com.
Learn more at AzioneUnlimited.com. Follow @AzioneUnlimited on Instagram, Facebook and Twitter.
All products, product names, trademarks and registrations mentioned are the property of their respective owners, all rights reserved.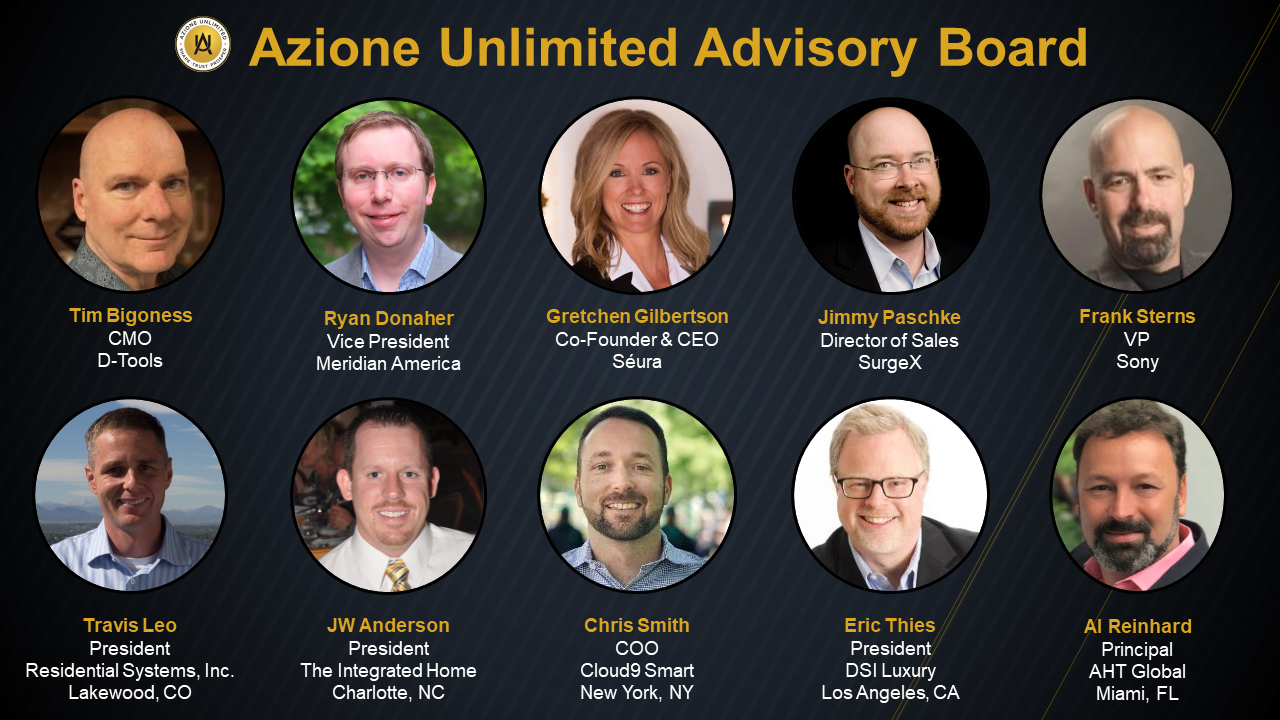 Comment on this Post