Azione Announces 2018 Contest Winners
Chester Springs, PA – (November 28, 2018) – In today's highly competitive home technology industry, business success is often measured by growth. Azione Unlimited, the only buying group where vendors and members are equal partners, seeks to encourage growth while rewarding its members in tangible, memorable ways.
Most recently, the group revealed the winners of its 2018 Brand Adoption and Growth Contest, "Escape to Aruba." The 2018 competition was an enhancement of the group's 2017 Motivational Contest, a first of its kind in the industry. In 2017, Azione sent 24 winners and their guests to Turks and Caicos. Deemed a "Motivational Contest," the competition promoted growth – of revenue, percent of sales, and product lines.
This year's event focused on even more metrics that matter and fostered a sense of partnership between dealers and vendors, something that is crucial in this era of shrinking margins and commoditized technology.
With highly targeted goals and a contest structure that rewarded business growth, adoption of new lines, and renewed relationships with former vendors, the 2018 Adoption and Growth Contest inspired members to reach outside their comfort zones. At the same time, it offered the support of the group and opportunities for learning and mentorship, which studies show is a critical element to success when people try new things.
Contest Winners Adopted More Than Just New Product Lines
Winners "adopted" more than just new lines or new dealers during the contest. In their pursuit of the highest growth by dollars and by percentage, as well as more tickets – which gave participants entries into the random drawing portion of the contest – members adopted a growth mindset. Brainstorming new business strategies and tactics, dealers and vendors looked for even more creative ways to approach their businesses in 2019.
"With unprecedented participation and success this year, the Azione Adoption & Growth Contest illustrates the value of a focused effort and the benefits of being a member of a group like Azione," says Azione Unlimited President Richard Glikes. "In fact, we've gotten so much support for this model that we're bringing the contest back again in 2019 for a third year."
During the contest, vendors saw dealers adopt innovative and highly effective business practices that will, ultimately, benefit the industry as a whole. Looking forward to 2019, Azione members and contest winners had the following to share:
For 2019, SurgeX wants to continue to build upon the messaging around every system receiving a solid power foundation. We hope our dealers see us as the only true partner in the power category, which can help in better diagnosing and addressing potential power pitfalls within any given jobsite. We would love to help more customers benefit from an uninterrupted user experience by utilizing our large format UPS solutions from 10kVA to
225kVA in mitigating the often-overtaxed infrastructure of the electrical grid." Says Jimmy Paschke, Sales Manager for SurgeX Residential.
Eric Bodley of Future Ready Solutions adds "With the launch of 8K video and 10g networking – FIBER will be the major initiative for 2019. Now is the time for Azione members to learn how to design, install, and commission fiber optic systems – and Future Ready Solutions is the resource to accomplish it."
Glikes concludes that "the contest provided inspiration for Azione members to go the extra mile, while networking opportunities (including the Adoption contest), panel discussions, and roundtables at Azione events throughout 2018 offered practical advice and helpful resources."
How the Contest Worked to Reward Growth and Relationships
The contest experienced record-breaking and unprecedented participation, with 96% of all eligible dealers earning tickets in at least one of three categories:
67% of dealers met vendors' growth requirements
27% of dealers met vendors' new dealer requirements
6% of dealers met vendors "re-engaged dealer" requirements
These dealers all received tickets, which were then used as chances to win the random drawing. In addition, three Azione dealers and three Azione vendors won in categories that exemplified business growth in different ways, notably, percentage growth, dollar-value growth, and line growth.
And the Winners Are…
Azione President Richard Glikes announced the winners of the 2018 contest during a Facebook Live session and the group then traveled to Aruba where 24 winners spent 5 days and 4 nights on an all-expenses-paid escape. There, attendees enjoyed the sunshine, sparkling sand, azure seas, and the companionship of other hard-working Azione members.
The winners are as follows:
Most $ Growth w/ AU Vendors: Advanced Home Theater
Most % Growth w/ AU Vendors: House Systems
Most Lines up 25% w/ AU Vendors: Definitive Electronics
Random Dealer Drawing: Echo Workshop, Connect Consulting, JD Audio and Video Design
Most $ Growth w/ AU Dealers: Sony
Most % Growth w/ AU Dealers: Future Ready Solutions
Most Dealers w/ 25% Growth: IC Realtime
Most Dealers Added: SurgeX
Random Vendor Drawing: Dana Innovations
"With the unprecedented participation and success of this year's contest, there is no doubt we will continue this initiative in 2019. Who knows what exotic locale we will visit?" ponders Glikes. "One thing is certain: While the contest will continue to emphasize adoption and growth, we will also introduce another element: engagement."
Glikes offers additional inspiration by sharing, "Members' participation in Azione Unlimited conferences and other group meetings and initiatives offer excellent opportunities to earn additional chances to win our random drawings and achieve unprecedented success in the various growth categories of the contest, as well."
About Azione Unlimited
Azione Unlimited, the education and buying group for integrators, is a consortium of like-minded custom installers, home technology professionals, and vendors. The organization helps its members achieve greater levels of prosperity, technical acumen, and sophistication in running their businesses and serving customers. Founded by industry veteran Richard Glikes and headquartered in Chester Springs, PA, the organization hosts two high-energy, information-packed conferences per year, Azione provides its members with a host of benefits, from product discounts to educational middle management meetings and marketing tools.
Learn more at AzioneUnlimited.com. Follow @AzioneUnlimited on Instagram, Facebook and Twitter.
All products, product names, trademarks and registrations mentioned are the property of their respective owners, all rights reserved.
Media Contact
For interviews or media tours, please contact Katye (McGregor) Bennett of KMB Communications by phoning (425) 328-8640 or emailing katye@kmbcomm.com.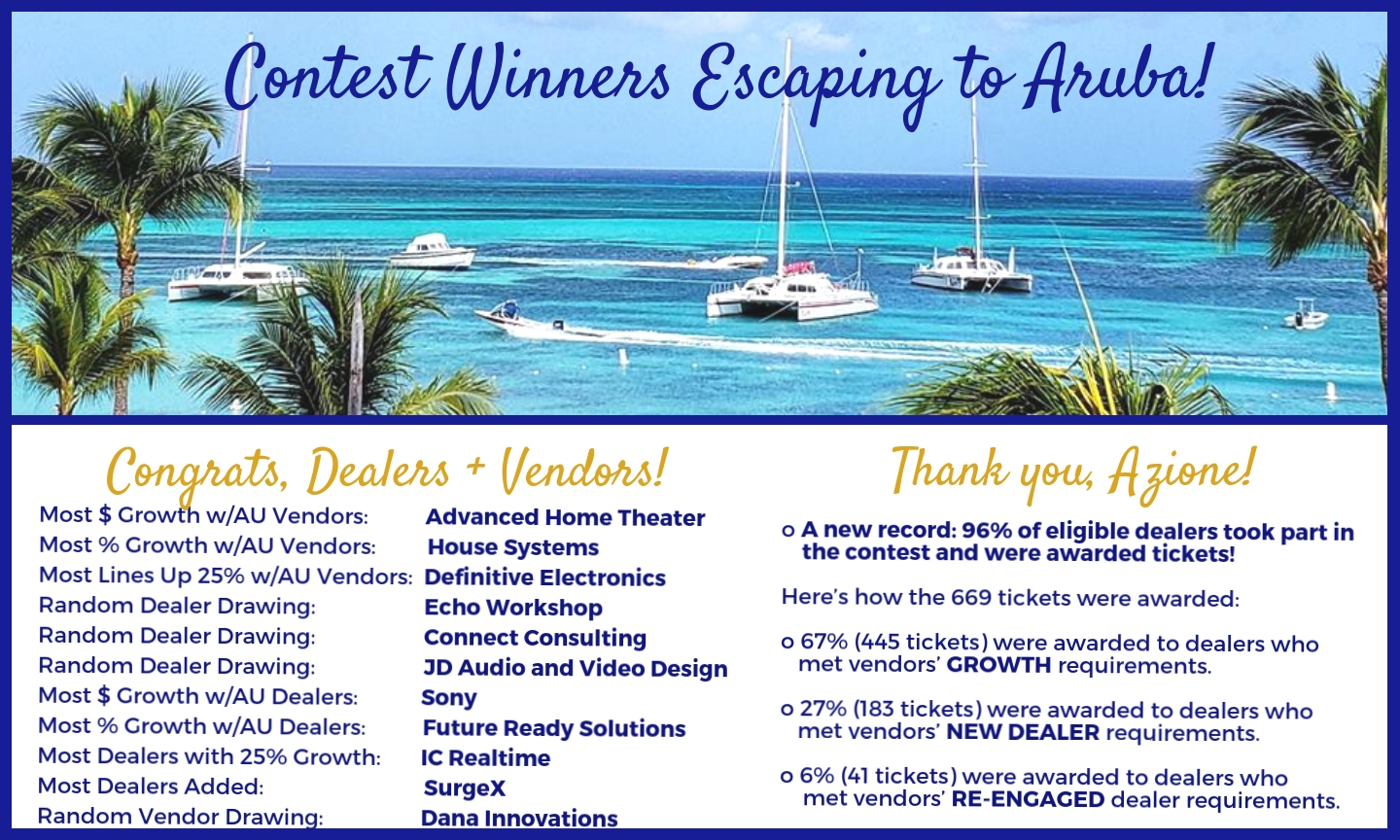 Comment on this Post