Integra
Integra is a premium line of audio video components produced with a very unique mission: to design and create components that are system integrateable, upgradeable, and multi-zone expandable, but most importantly components that home theater enthusiasts will love.
Our mission is unique: In addition to building components that home theater enthusiasts love, we're also out to design and create components that set new standards for system integration, upgrade capability and multi-zone expansion. So to say that Integra is a premium audio video line is an understatement-world-class components are our lives.
By assembling a team of the finest audio engineers and designers, supplying them with the finest test and measurement equipment, and, to match this expertise, using only the finest parts available.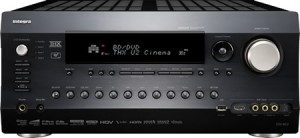 Then, couple this with exacting manufacturing standards, and painstaking construction in ISO 9001 certified facilities. And finally: access the vast technical resources of a parent company with a proud heritage of over 50 years of audio engineering excellence. In addition, Integra components share a common feature package which includes gold plated input/output jacks, RS-232 ports, detachable heavy guage power cords, and 12-Volt triggers. These features make them unique, and exceptional for custom installation and systemization.