Azione Unlimited Spring Conf. Shows Members Their Future is Unlimited
Azione Unlimited Spring Conf. Shows Members Their Future is Unlimited
BY TED
Launches Two Major Initiatives Partnering with Nationwide
On Thursday, Azione Unlimited wrapped up its spring conference, this year known as the Didactic Dovecote in the Desert, which took place in Scottsdale, AZ from March 7th to March 9th. Although this is the first Azione event I have personally attended, it was an impressive display of solidarity, sharing, learning, and planning with a lot of enthusiastic participation by the organization's members and vendors.
Perhaps most importantly, as part of the Nationwide Marketing Group's family of companies, the association announced two major new initiatives: the Azione Academy, an online self-paced education program; and the Drive to 1,000 collective membership drive. This initiative by Nationwide is their plan to drive collective group membership to 1,000 members overall.
Learn more about the Azione spring conference…
Azione says the conference this year was its biggest ever, with the highest membership participation in its history – bringing together 281 individuals from 280 member companies. Fully 31 attendees were from new member companies participating in their first-ever Azione conference.
An Upbeat Atmosphere at Kickoff
The air was upbeat at kickoff and President Richard Glikes acted – as usual – as the master of ceremonies in his own unique inimitable style. After explaining the meaning of the title of the event – Glikes has always had a love for alliteration as well as a penchant for naming his events – he laid out some rules for the meeting and then the agenda.
What does the Didactic Dovecote in the Desert mean? Glikes says "didactic" means "morally instructive or inclined to teach." Then he adds "dovecote," which he says is a reference to the fact that Azione has "assembled one of the younger groups of organizations" which explains the dovecote term. So he puts it together like this, "We're among the youngest group of organizations that is dedicated to teaching, learning, and is morally astute." It's a bit of a stretch, but if you know Richard, it's right on brand.
Emotional Farewell to Alex Camara; Savant's Angela Larson Appointed to the Board
In any event, after reviewing conference rules and the agenda, the program took a bit of an emotional detour, as Glikes called up popular industry executive Alex Camara of AudioControl. It was recently announced that Camara was leaving AudioControl and therefore, as a director on Azione's advisory board he is leaving the board as well. Camara looked genuinely touched, at one point putting his hand over his heart, as Glikes called him to the front of the room and presented him with an award – called The Time is The Time award (a favorite expression of Glikes) – in recognition of Camara's many contributions to the group.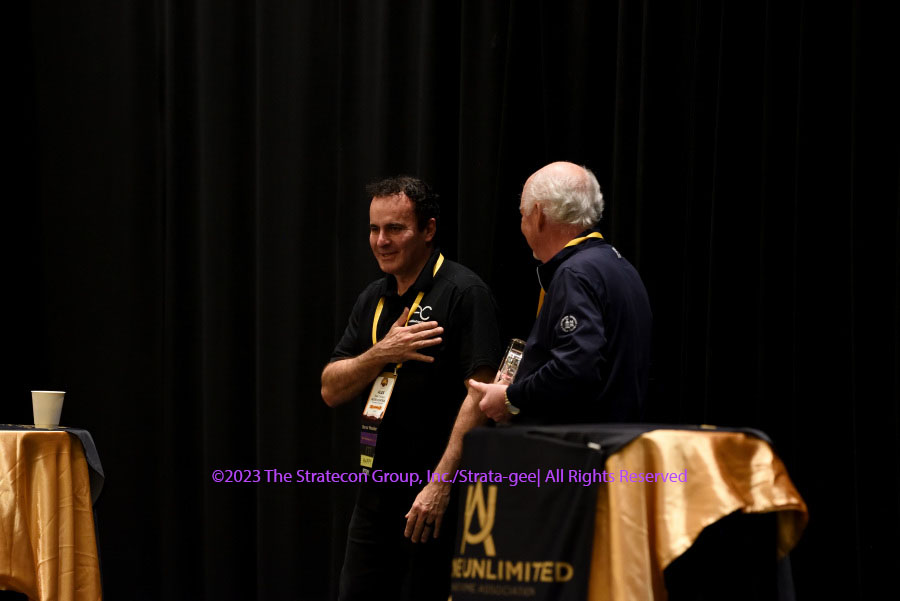 Who will replace Camara? We didn't have to wait long to find out as Glikes announced the appointment of Angela Larson, Savant's Vice President of Customer Operations, to take Camara's open seat on the Azione advisory board.
'Azione Academy' and 'Drive to 1,000' Initiatives Announced
From here, the group's leader turned to a brief review of Azione's business in which he noted the organization saw double-digit business declines in the last quarter of 2022. However, even with this end-of-year decline, for all of 2022, the group enjoyed a 2% year-over-year business increase. Glikes remains suitably concerned but cautiously optimistic for 2023.
Then the meeting turned to two exciting new initiatives Azione is launching in conjunction with Nationwide Marketing Group. First up, Azione partnered with Nationwide to license¹ the CEDIA Academy – an online portal with hundreds of hours of self-paced training on a vast range of topics important to integrators and an integration business. There is a wealth of knowledge resident in this training, now available as a new benefit to Azione members on-demand for self-paced education. This licensing² of the CEDIA Academy was a significant investment, and Glikes is quite clear that, without the partnership with Nationwide, Azione would not have been in a position to make such a move.
Phase Two – The Azione Academy
The next phase of this project is the creation of the Azione Academy, which will bring in more training assets – specifically from many of Azione's top vendors, rendering this portal even more valuable for group members. Brands such as Savant, LG, Sony, AudioControl, Snap One, Coastal Source, Samsung and more will be contributing training programs to be input into the Azione Academy. In this way, the valuable education members receive at the group's two yearly events will be both augmented and available to members on a year-round basis.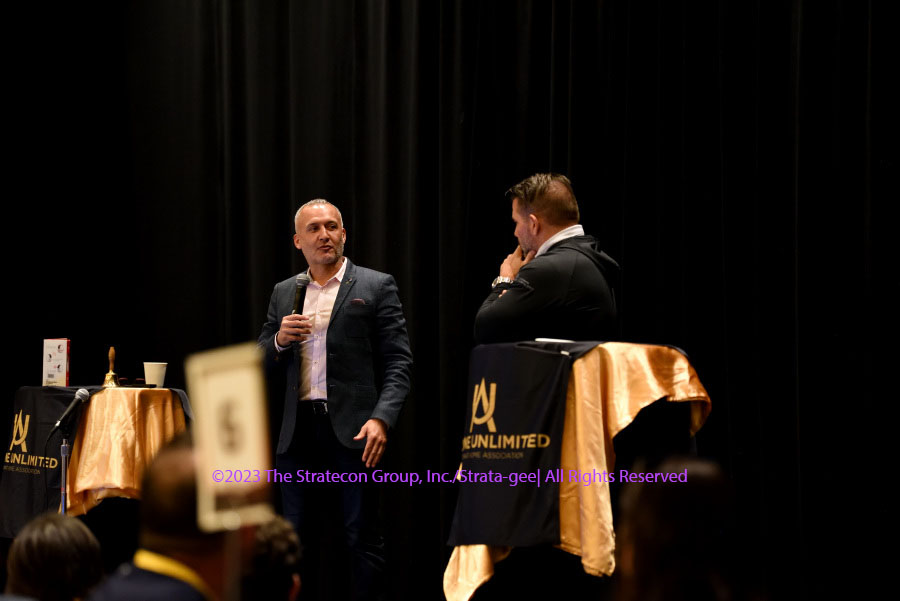 Nationwide's President Tom Hickman (R) and SVP of Custom Integration Andy Orozco address the Azione members and introduce keynote presenter John Riddle of Howards (more details in the text) 
The second major initiative announced at the event is the Drive to 1,000 I mentioned previously. This is not an Azione-specific initiative, but rather a coordinated effort by all of the Nationwide Marketing Group's portfolio of buying groups for greater overall growth – taking the collective total up to 1,000 members. Nationwide executives Tom Hickman (President and Chief Member Advocate) and Andy Orozco (Senior Vice President of Custom Integration) were in attendance at the event and helped to introduce John Riddle of Howards, the Day 1 keynote presenter.
Drive to 1,000 – An Ambitious Initiative
It's an ambitious plan for Nationwide to execute. The goal is laid out as follows: Azione currently has around 280 members. Over the next couple of years, they will add another 20 or so members to bring their total up to at least 300. HTSN, another Nationwide buying group, with a different member profile, currently has 252 members. They are targeted to grow over the next couple of years to 600-some members – more than doubling the group's size.
Finally, Nationwide intends to add a new buying organization focused on the commercial channel. Over the next couple of years, they expect to bring that group's number of members up to at least 100 commercial integrators.
It All Adds Up to 1,000 Members
Add all of this up and you get 1,000 buying group members, each in their respective group that best matches the profile of their company. We don't yet have specifics as to how this growth will occur, but the goals have been set.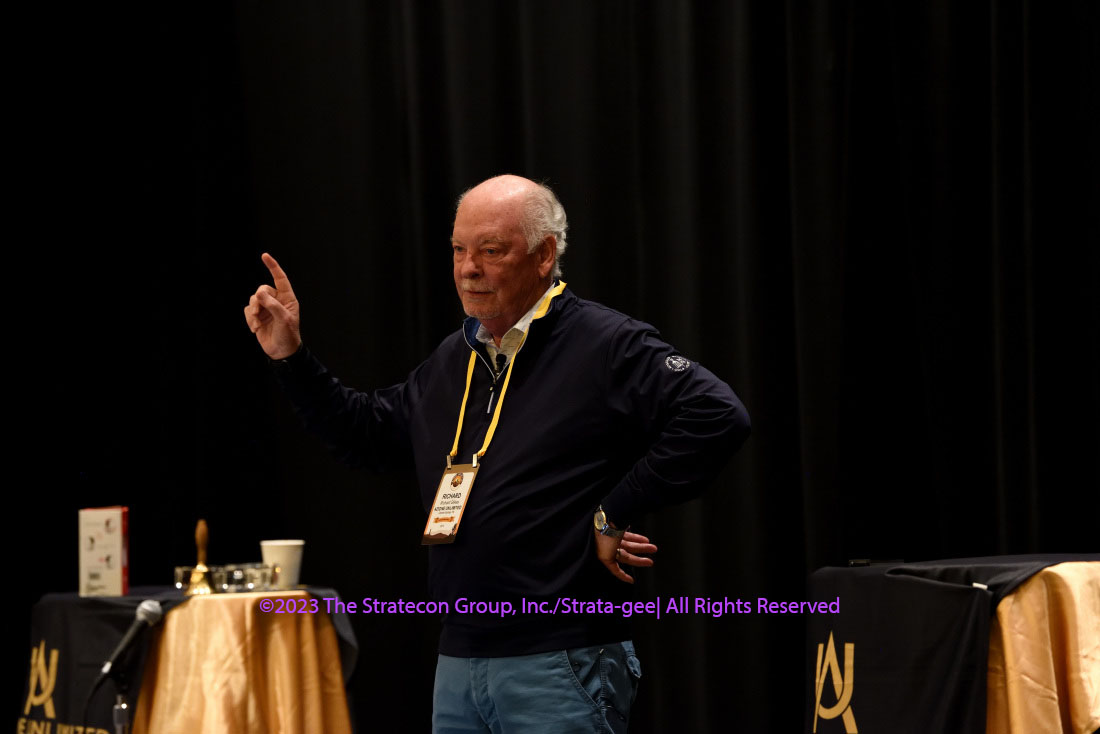 Azione Unlimited President Richard Glikes tells members, we are one family
After that presentation, Glikes moved on to the day's keynote presentation, which was John Riddle, the owner of a major Southern California appliance chain operating under the name Howards. In addition to this role, at other times in his career, Riddle was an executive for Maytag and LG appliances.
A Curious Choice for the Keynote Presentation
I have to admit that, at first glance, this seemed like a curious choice for a keynote presentation addressing a group of custom integrators. Especially for those members and vendors who harbor some concerns about whether Nationwide, a major player in major appliances, will take steps to change Azione in ways more to their comfort zone (something that Nationwide has said repeatedly is not in their plans.) Whatever the intentions, the symbolism of this choice seems to be out of step with the businesses of the Azione membership – and perhaps vaguely disturbing to those with questions about the organization's future.
That said, Riddle cuts an impressive figure. He's a high-energy deep thinker that offered a lot of solid general business advice as well as some strategic insights. And while some of that advice may have made more sense to a retail operation (much discussion about market share, sell-in versus sell-thru and the like) – there were enough general business gems that could help in the management of just about any type of business. Things like: valuing your employees…running a scorecard on your vendors to quantify their value…it's all about the customer experience…and many more.
The Mark of a Good Conference
It was a content-packed day but attendees stayed engaged to the end. But this was just Day One – there was another full day and a half to go.
I can tell you one thing that surprised me. By the end of the event on Thursday, in an open Q&A session on how to improve members' business, at least twice THIS concept came up: We need more events like this! Azione already offers two major conferences a year and after a long, densely packed conference, what did members want? More…
That is the mark of a good conference.
Click here to read Ted at Strata-gee.com's full article!
Comment on this Post