Blue Bolt
BlueBOLT™ Remote Power Management technology provides secure, hosted IP (Internet Protocol) system control. With BlueBOLT™, custom electronics installers, integrators and end-users can remotely monitor and control power to connected equipment by accessing power management components from anywhere in the world.
From simple system reboots to comprehensive monitoring of power status, BlueBOLT™ provides the power to control complex A/V systems from their most fundamental level – their power source.
BlueBOLT™ cloud-based technology is truly plug-and-play. Unlike traditional IP systems that require a dedicated IT professional or programmer to setup, BlueBOLT™ takes minutes. Simply connect any BlueBOLT™ Compatible Panamax or Furman product equipped with a BlueBOLT™ IP Communications Card (Model Number BlueBOLT-CV1) to the internet and the unit will find its home server and be ready to use with minimal configuration.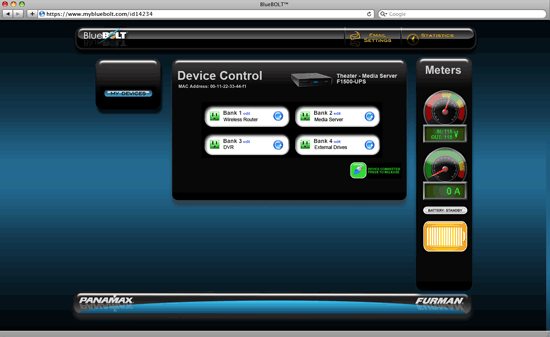 Since the interface is hosted by Panamax/Furman, you just set it once, regardless of how often the device moves. All devices are controlled through an easy-to-use interface at www.mybluebolt.com – no static IP addresses to obtain, port numbers to remember, or new ISP accounts to setup. Multiple units within a single installation or multiple units across multiple locations can all be accessed and controlled through the single login point at www.mybluebolt.com.